There are umpa lumpas at Ukiah High School. Yes…busy, busy workers running around trying to find ways to fit in at their newest home. We are talking about the Freshmen.
Today was Freshmen orientation at Ukiah High School, otherwise known as The Day Mr. Silva-Brown Stays in His Classroom. The sight of hundreds of children running around campus with their parents and the dynamics of said relationships drives me nuts after about five minutes. I watch parents push around kids, kids push around parents, both push around administrators, and gangs of 14 year olds roam the school acting extremely self-important. My one interaction involved me saying "excuse me" while I was walking down the hall and the froshy saying "yeah, excuse you" as I passed. And Mom just stood there texting on her phone, seemingly oblivious to the exchange. Instead of a confrontation I walked back the classroom and continued to prepare for the year, thankful that my clientele is Juniors and Seniors and not those Smurfs that need a swift kick.
Somewhere in the afternoon there was an announcement about this guy.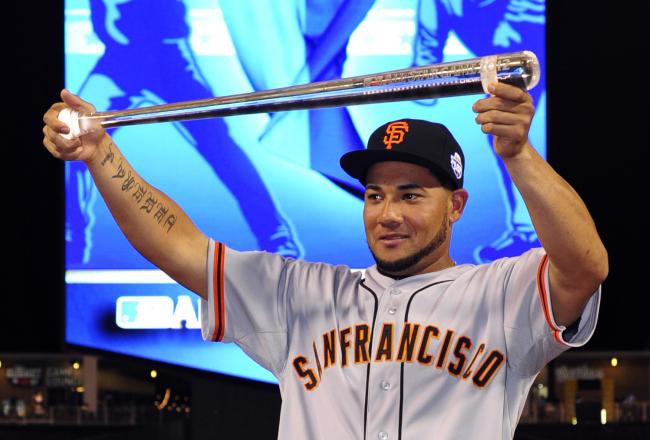 Yeah, and that glass bat Melky Cabrera is holding might as well blast in his hands for all the good he's going to do for the Giants. Fifty game suspension. When I heard the news I started looking on Twitter for the current status on this guy.
That's Roger Kieschnick, probably the best power-hitting outfielder for the San Francisco Giants farm system, currently playing for the Fresno Grizzlies (AAA). He was on the disabled list and is the best hope for some juice in left field for the Gigantes.
Jesus. Enough already. Frosh orientation, Melky, now Kieschnick is out. What the hell happened to the day?
Two things. One, I'm way to engrossed into San Francisco Giants baseball if I'm checking the disabled list status of farm hands. Two, I'm pretty damn prepped and ready to roll. Let's go already.